News and Events
Our Country Hospital Museum completes Standards Review Program
During 2021, the Australian Museum and Galleries Association (Qld) (AMaGA) gave us the opportunity to take part in a review of our activities and to receive advice and support from external museum experts. This program was supposed to be completed in 2021. However, because of Covid lockdowns visits were delayed and the program was not completed until 30 Jun 2022.
We found the review process to be very worthwhile, although it meant quite a lot of extra work for the six members of our volunteer group who made up our team.
The process of reviewing our documentation and procedures against international museum standards was useful. Forunately, due to Yvonne Kelley's vision and guidance during the initial establisnment and setup of the Museum, we were forunate to have a great start from which to build. In fact, Yvonne led a different volunteer team through a Standards Review Progran the first time it was ever offered in Queensland in 2007.
Now that the dust has settled, our committee members are working through the outcomes of our discussions in the process of development of a strategic plan to guide us over the next few years.
In their final report, the reviewers noted that "The Museum has achieved a great deal in the last two decades, maturing from a collection of nursing and health related objects, to a building with high quality interpretive displays, storage and collection management systems. Their Woorabinda display is an excellent example of working with a community and its leaders to develop a relevant and emotive display on Indigenous health in the regions. It is a project that should be used to demonstrate to community museums how to initiate and develop displays and stories relating to Indigenous and minority groups in a diverse regional community."
A second comment in the report read "The ACHHA have excellent records for their collections and continue to work on documentation of their archives. In fact, the standard of their collections management records would provide an excellent guide to other Museums with similarly diverse collections. Digital management of those records is via several databases and the group was open to suggestions for reviewing and researching data management options."
Now that the review is complete, we are proudly showing our completion certificate on the front verandah.
The completion certificate is on the left below. Museums and Galleries (Queensland), with our input, also produced a one page sheet to show on their website. This is on the right below.
Remember that you may view these photos at a larger size by clicking on them. Use the bak arrow to return to this page.
Country Hospital Museum Tenth Anniversary
Believe it or not, it is ten years since the official opening of our Country Hospital Museum. To mark the occasion, members were invited to a tenth anniversary function at the Museum on Tuesday, November 19th 2019. The ceremony actually had a dual purpose. It was decided that it was timely for us to also acknowledge the pivotal role played by our Archivist, Mrs Yvonne Kelley, who has been the key driver for the development of the museum over almost 45 years starting in 1975.
The first significant items which started the collection were three large register books containing the names and training details of nurses at the Rockhampton Hospital between 1885 and 1939, including the first nurse to complete her training in Queensland, Miss Mary-Jane Hood. Yvonne tells us that once the word was out that she was interested in collecting historical items of significance, many people starting bringing such items to her. Historic uniforms started to arrive. Mr Albert Crudgington had three sisters who had trained at the hospital. In addition to many photographs, he had uniforms from 1918, still neatly folded. From these origins, a major historical and replica uniform collection was built over the years.
This photograph from April 1983 shows Yvonne (2nd from right), Debbie Richards (seated) and the two nurses Leanne Perry on the left and Lisa Smith second from the left, modelling two 1918 vintage nurses uniforms which had been worn by Elsie Crudgington.
,

While celebrating Yvonne's contribution, we also acknowledge that Miss Norma West's support as a senior manager of the hospital was crucial in enabling the collection to continue, and in convincing the Hospital Board to allocate space at the Hospital for the first Base Hospital Museum, forerunner of what you see today. Yvonne also readily acknowledges the assistance of many other volunteers over the years. But any successful projects such as this require a driver on the ground, and all agree that Yvonne has been that person.

During the development of the museum, Yvonne received a number of awards and commendations, culminating in the Medal of the Order of Australia (OAM) in 2008 "for service to the preservation of healthcare history in Central Queensland and to the local community of Rockhampton".

As always at such a function, photographs were taken. Here are just some of them which help us to tell the story of the day.

Because 19th November was a hot day, we decided to commence the function with morning tea in the air conditioned Shearing Shed at the Heritage Village.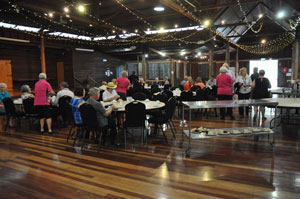 ,

In the photograph below-left, we see ACHHA supporters Isobel and Dr Max MacDonald, Mark Hamilton from the Rockhampton Hospital and ACHHA member Adele Rogers. In the photograph on the right we have ACHHA member Janet Iffinger and Cultural Advisor to the Country Hospital Museum, Barbara James.

The photograph below on the left is of ACHHA Management Committee Member Matthew Johnson with Dr Tom Dewar OAM. Tom was a member of the inaugural ACHHA Management Committee which was formed in 2000. In the right-hand photo we have ACHHA supporters Brian and Frances McCheane.

In the left hand photograph below, we see ACHHA Member Ashley Reid (L) with ACHHA supporters Trish Hardy and Jan Woods. The right hand photo includes ACHHA members Joan Millar (L) and Debra Richards with ACHHA Archivist Yvonne Kelley OAM. Both Yvonne and Debra were members of the inaugural ACHHA committee which was formed in 2000.

To mark the special occasion, Yvonne Kelley invited her friend, Doreen Lovett (L), and sisters Cheryle and Chris to attend the function.
,

In the photograph on the left below, we have ACHHA Management Committee Members Del Leitgeb (L), Kay Smith (Secretary) and Lorraine Antonello (President). In the right hand photograph we have two more Management Committee members Dorothy Broad (L) and Nancy Crapp.

On the left, ACHHA member Lyn Lowrey (L) is with ACHHA Vice-President, Christine Putman, and ACHHA Secretary, Errol Payne. In the right hand photograph, Christine is with ACHHA member Berenice Payne

ACHHA members Di and Dr Peter Roper also attended. Peter was another member of the inaugural ACHHA committee formed in 2000.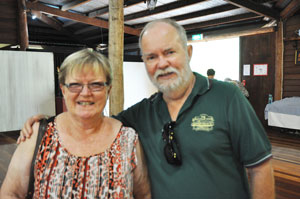 Following a PowerPoint presentation at the museum which focused on highlights of the 45 year story and Yvonne's role in it, ACHHA Committee Member Carol McIver presented Yvonne with a personal trophy to mark the occasion.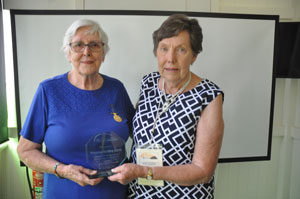 In preparation for the function, two display boards were made which are now on display in the Gallery. The first board carries Yvonne's photograph with a brief summary of her career. The second board is a collage which highlights stages in the development of the museum with a particular emphasis on Yvonne's role since the collection was commenced in the late 1970s. The first photograph also includes an arrangement of roses which was given to Yvonne.
Our band of ACHHA volunteers looks forward to a second successful decade at our Country Hospital Museum. There is still much to be done to fully document and display our excellent collection of objects and documentation, especially our photographs.
Archived News Items
To read previous archived stories about the development of our Museum, please click this link.
Association Newsletters
The Association produces a printed Newsletter regularly in order to keep both our members and the general community informed of our activities. You may download the most recent versions of the Newsletter here in pdf format by clicking the links below.

July 2023 Newsletter
February 2023 Newsletter
August 2022 Newsletter
February 2022 Newsletter
February 2021 Newsletter
September 2021 Newsletter
August 2020 Newsletter
March 2020 Newsletter
August 2019 Newsletter
May 2019 Newsletter
December 2018 Newsletter
August 2018 Newsletter
April 2018 Newsletter
November 2017 Newsletter
July 2017 Newsletter
February 2017 Newsletter

To view our full set of archived newsletters, please click this link.