Dr Norman Charles Talbot (1886 - 1968)
Dr Norman Charles Talbot was one of a small group of medical practitioners who were instrumental in providing a very high level of care to Rockhampton and the broader Central Queensland Community in the first sixty years of the 20th Century.
Norman Talbot was born to George William Talbot, a teacher, and Isabella Mackay on 24th May 1886 in Campbells Forest, Victoria. He attended Scotch College in Melbourne and then worked there as a teacher until he was old enough to commence his study of medicine at the University of Melbourne in 1907. The Council of the University admitted him to the degrees of Bachelor of Medicine and Bachelor of Surgery on 10th June 1912.
This photograph of Dr Talbot is from the Country Hospital Museum Collection.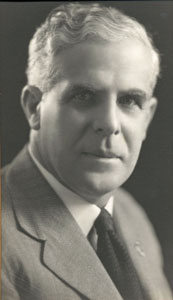 As was the case for so many young women and men at that time, Dr Talbot decided to join the war effort and enlisted in Britain as a Lieutenant with the Royal Army Medical Corps in 1915. The reason for his British enlistment was that the Australian army judged that it had enough medical practitioners at the time. He served in France and was promoted to Captain during the war. He was awarded the Military Cross for Gallantry which was presented to him on 24th November 1919 by the Governor-General in the grounds of the Federal Government House.
Our Association's collection includes this photograph of Dr Talbot in his World War 1 Royal Army Medical Corps uniform.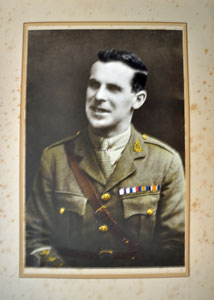 Dr Talbot moved to Rockhampton and established himself in private practice in 1919. He served the Rockhampton community from the time of his arrival for more than 40 years. He was appointed an Honorary Medical Officer at the Rockhampton Hospital on 14th May 1920 and had the same role at the Children's Hospital. The first reference to Dr Talbot setting up his own hospital came in the report of a death there in February 1922. The Morning Bulletin also reported a birth at Tannachy Private Hospital on 12th March 1922.
Tannachy was on the site of Rockhampton's very first hospital on the banks of the Fitzroy River. When that hospital relocated to Canning St, Mr William Patterson, an original shareholder of Mt Morgan Mines, purchased the site and built his magnificent home of Oregon pine, which he named Tannachy, the name given by the Darumbal People to the rocks nearby in the Fitzroy River. After William Patterson died in 1896, the home was rented as a guest house by the Misses Armstrong "for young men who did their own entertaining". It remained a guest house until 1913 when it was purchased by Mrs W.G. Chapple. The Chapple family resided there for nine years with many balls being held in the grand ballroom during the 1914-1918 war. Dr Talbot then purchased the home as the basis for his private hospital. In later years a maternity section was added and a separate cottage was acquired for a nurses' home.
The next major development occurred in early 1924 when Dr Frank Couper Wooster DSO, MB ChM (Sydney) FRACS joined Dr Talbot in his practice and in the running of the Tannachy Hospital. Frank Wooster had been the Medical Superintendent at the Rockhampton Hospital since 1914 with the exception of a period of leave to allow him to serve in World War 1. An overview of Dr Wooster's life and service similar to this one about Dr Talbot is available on this website (http://www.achha.org.au/Frank-Wooster-2015.php).
From this point on there are literally dozens of newspaper reports and family notices relating to births, deaths, accidents and illnesses involving Tannachy. Clearly, this hospital was a major resource benefitting Central Queensland.
Throughout the 1920s and 1930s there are also many newspaper articles which provide an insight into the broad role which Dr Talbot played in the community. We know that at one time or another he was active, usually in an executive role, in the tennis club, the soccer club, the rifle club, the aero club and the various racing clubs. With Dr Wooster he also supported rugby league in the role of honorary medical officer. In 1929 both he and Dr Wooster were elected to Life Membership of the rugby league organisation. Also like Dr Wooster, he frequently donated trophies for competitions. A notable example was the Talbot Challenge Shield for competitions involving the 11th Field Ambulance. He was also a racehorse owner, and on one particular occasion when he was President of the Rockhampton Jockey Club his horse Phyllite won the cup worth 25 pounds cup which he had donated for the race.
An important event in Dr Talbot's life was the death of his mother on 16th March 1936. According to the electoral rolls, Mrs talbot had been living atthe same address as Dr Talbot since at least 1922.
Dr Talbot married in February 1938 when he was 52 years old. His wife was Lillian Cantley Spence McKenzie, daughter of a Longreach grazing family who was 20 years his junior. They had two sons, MacKenzie and Campbell.
Later in 1938 the Queensland Government appointed him as Government Medical Officer to replace Dr Daniel Patrick O'Brien. He held this position well into later life even after he had retired from normal medical practice. This was in itself a very busy position, responsible for many medical examinations of public-sector employees, workers compensation issues and conducting post-mortems. The Government Medical Officer worked closely with the City Council overseeing the general health of the community, particularly as it related to the immunisation of children and the management of infectious diseases such as poliomyelitis, diphtheria and whooping cough. In this role the person is sometimes referred to as the Medical Officer of Health to the Council and reported regularly to the organisation.
When World War 2 commenced, Dr Talbot decided to serve once again. He enlisted on 6th December 1940, located with Northern Command Headquarters with the rank of Lieutenant-Colonel. He served until 14th June 1944. Apparently he had hoped to serve overseas but was disappointed when the army decided that this was not possible due to his age (54 at the time of enlistment) and instead appointed him as Assistant Director of Medical Services, Northern Command. Dr Talbot had maintained his army links after World War 1. He joined the Australian Army Medical Corps in 1921 and was appointed to command the 11th Field Ambulance in Rockhampton in 1927. He led that unit until 1936. During these years of service he was promoted to Lieutenant-Colonel.
The announcement that Dr Talbot had left Rockhampton to take up his military role triggered a grass-roots community movement to recognise his service to Rockhampton since 1919. After a fundraising campaign it was decided to close the fund and provide recognition to Dr Talbot in the form of an address of appreciation to the doctor and a gift to Mrs Talbot. While it was hoped that he and Mrs Talbot would come to Rockhampton to enable the community to honour him at a public function, the demands of the war effort were such that he was unable to make the visit in a timely fashion. It was therefore decided to mail the tribute in the form of a commemorative address praising his service and gifts of a travelling rug and motor gauntlets (gloves) for Dr Talbot and a "handsome ring with a rare sapphire stone" for Mrs Talbot. The address may be read in full in the complete pdf version of this story for which you will find a link below.
Dr Talbot completed his military service in mid-1944 and returned to his former practice in early July of that year.
When Dr Wooster died on 5th June 1950 Dr Talbot decided that, after almost 30 years sharing the workload, he would be unable to continue to operate Tannachy by himself and announced that he would be closing the hospital. This occurred in October or November of 1950.
Great concern was expressed in the city about the major impact of the loss of this hospital with its 40 beds, including maternity beds, operating and X-ray facilities and other invaluable assets. Public meetings were soon organised and a number of local businessmen were able to quite quickly establish a new company Tannachy Private Hospital Pty Ltd and negotiate the purchase of the asset. With the support of former hospital staff including many nurses, the company was able to reopen the hospital in mid-January 1951 and gradually bring it back into operation. Several private doctors provided their services to support the continuing operation of the hospital which was later purchased by the Anglican Diocese of Rockhampton in 1961 and renamed St John's Hospital.
Around this time, the hospital was extensively remodelled with a brick frontage along the full length of the hospital. Dr Talbot was given the honour of opening the remodelled hospital. This photograph from the Country Hospital Museum Collection shows Dr Talbot cutting the ribbon with the hospital's Matron Betty Shera. Wards in the hospital were named after both Dr Talbot and Dr Wooster.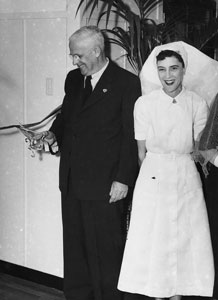 During these later years, he continued to provide service to the community. As an example, he was elected to the role of President of the Rockhampton Agricultural Society in 1952.
We do not know exactly when Dr Talbot ceased practice, though he continued as Government Medical Officer after he ceased seeing private patients.
Dr Talbot died aged 81 in the Talbot Ward at St John's Hospital, formerly Tannachy, on 10th January 1968. He was cremated on 11th January 1968 at the Rockhampton Crematorium.
Enduring physical symbols of Dr Talbot's service to Rockhampton are a street named after him in North Rockhampton and the Talbot Estate in South Rockhampton. The latter is a complex with 79 units and cottages run under a non-profit trustee system which provides affordable independent housing for more than 100 older citizens.
A more complete account of Dr Talbot's life and service is provided in a pdf document which may be accessed by clicking here. This version of the story also includes reference sources for those who wish to delve further into the history of Norman Charles Talbot.