Pharmacy in Wartime
This article about the challenges of Pharmacy in Wartime relating to World War II is the second pharmacy article prepared for our website by long-time Rockhamtpon Pharmacist and pharmacy historian, the late Dr Barry Bryant OAM. We hope readers find the article both educational and entertaining.
During World War II, drug supplies were severely curtailed and a number of war-time pharmacopoeias were produced to minimise this problem by using modified formulas. On the credit side, Australia's isolation also provided a powerful stimulus for development and innovation in the drug industry. For example, Java produced 1000 tons of quinine per year in the time preceding 1942, the supply of which dried up after the southern expansion of the Japanese armies. The first Figure is an image of the Quinine Formulary of 1939.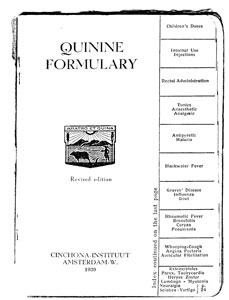 F H Faulding, ICI (Imperial Chemical Industries), CSL (Commonwealth Serum Laboratories), Monsanto and Nicholas Pty Ltd were some of the firms whose research and production effort expanded dramatically during the war years.
Some examples of wartime modifications due to shortage of supply and the need to find alternative sources for old drugs or to develop new drugs included the extraction of Vitamin A from "white schnapper" shark (sic) instead of cod- (this was the "school" shark Galeorhinus galeus. So efficient did this process become that supply was assured for the whole Australia army, the civilian population and a flourishing export to the UK and India. The synthesis of sulphanilamide followed shortly afterwards by that of sulphaguanidine (used in the treatment of dysentery) and sulphamerazine (1944) by Monsanto, as well as synthesis of Paludrine (TM) (proguanil) for the treatment of malaria by ICI (Imperial Chemical Industries). The scarcity of quinine necessitated the development of improved synthesis of Atebrin (mepacrine) by Dr Adrian Albert in 1942. Opium concentrate was made by a new extraction process from Australian opium poppy capsules and from the stalks. New mosquito repellants were developed against mosquitoes and scrub mites including the still-used dimethyl phthalate.
Wartime measures were coordinated under the control of the Medical Equipment Control Committee This organisation was responsible for publication of the Australian War Pharmacopeia 1942 which was prepared '...as a wartime measure to facilitate economic and effective prescribing of essential drugs and to simplify dispensing.' Practitioners were instructed to prescribe and dispense A.W.P. formulae in preference to those from other formularies.
A further exhortation was added to conserve '...manpower required in packing, transport distribution and dispensing... especially of those drugs in short supply and of those more urgently required in other spheres of war activities'. Emergency pharmacopoeia utilisation of native plants included the extraction of alkaloids such as atropine, hyoscine and hyoscyamine from the corkwood species, Duboisia myoporoides and D. leichhardtii. The narcotic properties of these plants were well known and utilised by the aboriginal inhabitants of Australia and were recorded in the nineteenth century by Baron Ferdinand von Mueller (1825-1896) a distinguished botanist who began his career as a pharmaceutical chemist! From these sources, Australia supplied the entire stock of hyoscine needed to combat sea-sickness for the invasion of Europe on D-Day 1944 and subsequently.
Some other examples of actively encouraged substitutions included:
Belladonna was restricted to internal use only, Duboisia species being used for external products in the form of powdered Duboisia leaf;

Bismuth was to be restricted in use to the treatment of syphilis and tropical diseases such as yaws;

Camphor was replaced by Oil of Eucalyptus for example in liniments and Camphorated Tincture of Opium was replaced with an aniseed-flavoured product;

Quinine was by regulation, to be used solely for the treatment of malaria, NOT as a contraceptive;

Distilled Water was restricted to use in eyes, for mixing drugs incompatible with tap water and in preparing intravenous and spinal injections;

Glycerin, due to its use in munitions, was not to be used as a sweetener or in external products;

Olive Oil was replaced by "Fixed Oil" including almond, apricot, peach, cottonseed, maize, peanut and sesame oils all of which are regarded as interchangeable.
The second Figure is an image of the special Australian War Pharmacopoeia of 1942.
The task of prescriber and pharmacists was further streamlined by the publication of the List of drug synonyms and trade names, edited by Dr Adrien Albert (see biographical note below). This text was compiled for the Pharmaceutical Association of Australia and New Zealand by the Drugs Sub-Committee of the Australian Association of Scientific Workers 1940.
Quoting from the Introduction:'The present War has caused irregularities in the supply of certain drugs and difficulties now experienced in obtaining branded articles may increase. This publication was therefore produced ..... to help physicians by suggesting alternatives when a substance commonly prescribed by him is temporarily unobtainable.'
The third Figure illustrates a list of Drug synonyms and trademarks published in 1940 to assist in prescribing and dispensing.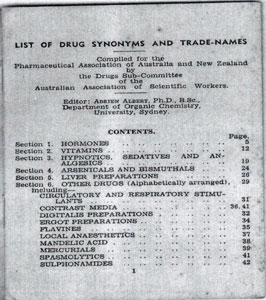 Dr Adrien Albert (BSc, PhD, ARIC), a distinguished research scientist, was responsible for much work on the acridine antiseptics such as acriflavine and aminacrine and also on the synthesis of Atebrin. The acridines had been of use in the latter part of the 1914-1918 conflict but were overshadowed by the newer sulphonamides after the First World War. Nonetheless they were effective against many micro-organisms in wounds, can be heat sterilised and rarely induce drug sensitivity. They were often combined with sulphanilamide to dress wounds. Dr Albert had a long and distinguished career and made many contributions to antimicrobial chemotherapy. By 1946, the Queensland Standard Pharmacopoeia for Hospitals had included a number of wartime advances, featuring Aminacrine Cream, as well as non-sterile and sterile versions of Penicillin Cream.
By early 1942, due to production problems in Great Britain, large scale penicillin production was under way in the United States, production initially reserved for the armed forces, but after the end of World War II it became available for the general public. An Australian pharmacy trade circular from F H Faulding Company dated October 1944 advised that although the '...present availability of penicillin limits its civilian use, the rapidly increasing production indicates that the position should be improved in the near future...' Advice was then given on the best way of compounding penicillin ointment and its stability. Penicillin made its Australian Pharmaceutical Formulary debut in 1947 as ear drops and as a cream.
A Federal Serum Institute later known as the Commonwealth Serum Laboratories was founded in 1916 and began producing vaccines by 1918, including a bacterial vaccine to counter complications at the time of the Spanish flu epidemic of 1918-19. The spectre of virulent influenza pandemic is still with us 90 years later!
BIBLIOGRAPHY
Albert A ed. 1940 List of drug synonyms and trade names. Compiled for PAANZ by the Drugs Sub-Committee of the Australian Association of Scientific Workers 1940.
F H Faulding "Commentary" Newsletter, Oct 1944.
Haines G 1997 History of the Pharmacy Board of New South Wales Pharmacy Board of New South Wales APPCo.
Medical Equipment Control Committee 1942, Australian War Pharmacopoeia.
Walker AS 1952 Clinical Problems of War. Australian War Memorial Canberra.
Barry Bryant