Hillcrest Hospital and the Voss Family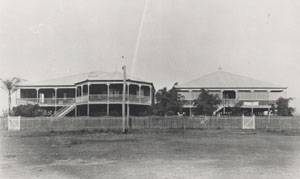 The story of Rockhampton's Hillcrest Hospital is inextricably linked to that of the Voss family. Dr Francis Henry Vivian Voss (1860-1940) arrived in Rockhampton via Bowen around in 1886 to work as a locum tenens for Dr William French Thurston. He had undertaken his medical education at London Hospital taking the Fellowship of the Royal College of Surgeons in 1885. He held an internship at London Hospital before working for a year in the Whitechapel Infirmary. Dr Voss established himself quickly in Rockhampton. In 1887 he was the assistant immigration agent in the quarantine area and was then appointed Government Medical Officer, a post which he held from 1888 until 1927.[1, 2]
In a short time, he established a flourishing medical practice and attracted two other doctors from overseas, Dr D. M. Davidson and Dr Norman Hawkes. The three became known as 'the medical triumvirate'.[1,3] Dr Voss bought a cottage in Archer Street and converted it to a small private hospital and he and his group were also instrumental in developing a high standard of care in the Women's Hospital and the Children's Hospital.
In 1897 he acquired a large block of land in Talford Street on which he planned to establish a new private hospital with buildings relocated from other parts of Rockhampton. In addition to these properties, he built a large house known as Penmaen in 1891.[1] The house was in Bolsover Street adjacent to the Leichhardt Hotel. The building, which has since been demolished, was later renamed the Voss Clinic in his honour by practitioners who followed in his path by conducting a medical clinic there.
In order to prepare himself for the development of his new hospital, he travelled to the United States and England in 1898. He returned with an X-ray machine, new types of sterilizers and plans for a building suited to the climate.[1] It must be remembered that X-rays were only discovered by Rontgen in 1895 so Rockhampton was very fortunate to have early access to this most important diagnostic tool.[4]
Dr Voss opened Hillcrest in 1900 and, following various extensions, it became a 65 bed hospital. He operated the Hospital until his retirement in 1929 due to failing eyesight. He left Rockhampton at that time and lived at his Bellevue Hill, Sydney, home until his death on 15 February 1940.[1,3]
Dr Voss had married Lottie Kerrod White on 11 January 1888 at St Paul's Church in Rockhampton. She predeceased him in 1926. They had two sons and three daughters. All except one daughter became medical practitioners.[1] One of the sons, Dr Paul Voss and his wife Dr Harriette Voss, made a very significant contribution to medicine in Rockhampton in their own right.
After Dr F. H. V. Voss's retirement, Dr Paul as he was known continued in the Rockhampton practice, basing himself in Penmaen.
Dr Paul Ernest Voss had married Dr Harriette Martha Exton on 8 July 1919 at Holy Trinity Church, Fortitude Valley. She had been born in Brisbane on 10 October 1887. They had one child. Harriette had completed medicine at the University of Sydney in 1915 and had been appointed resident medical officer at the Royal Alexandra Hospital for Children at Camperdown in March 1915 and then promoted to Chief Resident Medical Officer in the following year. She did not practice after her marriage.[5] The family lived at Penmaen and at another family home, Securus which was located at Tanby Point near Emu Park. Harriette was very active in community affairs playing key roles in the YWCA and in the Australian Red Cross, especially during World War II.[6]
When Dr Paul Voss died in 1948, Hillcrest was left to their son, V Voss and Dr Harriette Voss took on the role of manager. In 1951, ill health forced her to resign from the role and she died of cancer on 20 December 1951.[3,4] According to her wish, the hospital was offered to St Andrew's Presbyterian Church for purchase and this was transacted in June 1952. The hospital was then known as St Andrew's Hospital.
The old weatherboard building which had deteriorated very badly after nearly 80 years was demolished in the early 1980's to make way for a new hospital on the site. It continues to operate under the ownership of a private company, Ramsay Health Care and trades under the name Hillcrest Rockhampton Private Hospital. The present hospital is pictured below.
In his book entitled "The Development of Rockhampton and District", Mr A. E. Hermann makes detailed reference to the contribution of nurses who worked with the Voss family.[6] He writes:
"The doctors' first nurses were Sisters Alice and Nellie Brooks, the former commencing a long career with the Voss family at the Hillcrest Hospital and the Bolsover Street surgery. The two sisters did duty eight hours on and eight hours off, or 12 hours a day each seven days a week. Sister M. B. Shepherd, who did her training at Hillcrest Hospital, was also for many years associated with the Voss family. Early matrons of Hillcrest Hospital were Matrons Granville, Hutton, MacDonald, Bracker, Palfrey, Moore and Bergernie. "
Other information
There is an excellent Portrait of Dr Francis Henry Vivian Voss on the Queensland State Library website. Go to www.slq.qld.gov.au/. Click on the "Search the catalogue" box and type Francis Henry Vivian Voss into the "Search anything" box. Click on the image to see more detail.
____________________________________
Sources
1. Lorna McDonald, 'Voss, Francis Henry Vivian (1860 - 1940', Australian Dictionary of Biography, Online Edition, Australian National University, 2006. http://www.adb.online.anu.edu.au/biogs/A120375b.htm accessed 20 January 2008.
2. Lorna McDonald, Rockhampton - A History of City and District, Rockhampton City Council, 1995, pp. 365-366.
3. A E Hermann, The Development of Rockhampton and District, Central Queensland Family History Association Inc. 2002, p.37.
4. Monash University, A History of X-rays, http://cxpi.spme.monash.edu.au/xray_history.htm accessed 19 January 2008.
5. Betty Cosgrove, 'Voss, Harriette Martha (1887 - 1951', Australian Dictionary of Biography, Online Edition, Australian National University, 2006. http://www.adb.online.anu.edu.au/biogs/A160545b.htm accessed 20 January 2008.
6. A E Hermann, The Development of Rockhampton and District, Central Queensland Family History Association Inc. 2002, p.87.