Australian Army Nursing Service World War One
Local Nurses. Who Were They?
Early in 2014 Queensland began promoting the Australia-wide "Q ANZAC 100 Memories for a New Generation" program to commemorate the Centenary of World War One (WW1) 2014-2018.
As a small Country Hospital Museum wishing to contribute to the Q ANZAC 100 Project a decision was made to focus on identifying and honouring the local nurses who trained at local hospitals, enlisted and served their country in WW1.
The period 1914-1918 was a time when Matron Christmas was Matron of the Rockhampton General Hospital, previously known as the Port Curtis and Leichhardt District Hospital, the City of Rockhampton had only been proclaimed 12 years earlier and electricity had been connected to Rockhampton 16 years earlier.
Who were they? Where did they serve? What Awards and Decorations did they receive? What stories did they write home? What of their lives Post War?
These questions have resulted in a 3-year search of archival materials and as names on a piece of paper grew and stories of their experiences were uncovered, it did not take long for the names to become "real people". The need now was to find evidence.
By choosing a limited geographical area it allowed the opportunity to explore archived records held at the Rockhampton Country Hospital Museum which details nurse training at the Rockhampton Hospital from 1885. The area chosen to find our local nurses included Rockhampton, Gladstone, Calliope, Raglan, Mount Morgan and Yaamba.
Throughout 2014 many sources were searched to provide evidence of nurse training, enlistment and war service. These included the Australian Country Hospital Museum Archives, as well as many websites which included but were not limited to the Australian War Memorial, Queensland State Archives, and Embarkation Rolls.
Articles in newspapers found on TROVE and books such as "Queensland Nurses - Boer War to Vietnam" written by Rupert Goodman and "More Bombs and Bandages: Australian Army Nurses at Work in World War 1" published by Kirsty Harris in 2011 offered many insights not only into the service records of these remarkable nurses but also the hardships they endured.
While many aspects of the study were completed in 2014, the work has continued ever since to enlarge our knowledge of these remarkable women. A major update was completed in October 2016. This is the version which has now been uploaded to our website.
The result of the research has shown that 33 nurses trained locally and served in WW1. Of these, 18 trained at the Rockhampton General Hospital, 17 serving in the Australian Army Nursing Service and one in the British Queen Alexandra Imperial Reserve Nursing Service. Many Australian nurses anxious to enlist and serve King and country paid their own way to England and enlisted in the British Army.
In addition to the 33 nurses above, Ashley has identified 26 other nurses who had links to the local area either pre-war or post-war but did not train locally.
A separate pdf file has been prepared to provide more information for each of these groups of nurses. Click on the links below to see this information. Use the back button on your internet browser to return to this page.
Eighteen nurses who trained at the Rockhampton General Hospital.
Five nurses who trained at the Rockhampton Children's Hospital.
Two nurses who trained at the Rockhampton Women's Hospital.
Six nurses who trained at the Mount Morgan Hospital.
Two nurses trained at the Gladstone Hospital.
A further 18 had Pre-War links to the local area but trained elsewhere.
Another eight nurses with no known Pre-War links were found to have worked within the local area Post War.
Copies of photographs, nurse training and war service records along with letters home were shown in static Spyder board displays at the Country Hospital Museum throughout 2015. They were also shown at the Rockhampton International Nurses Day function held at CQ University in May 2015, the Senior Nurses Forum Day held at the Rockhampton Hospital in early September 2015 and at the Rockhampton Hospital on Remembrance Day 2015.
The response to these displays has led to further requests to show the information during 2015 and 2016. A display was shown at the CQ Family History Association "Commemorating WWI Day" in April 2015, Anzac Day at the Rockhampton Hospital and a selection of material assisted Hillcrest Private Hospital as they also sought to remember and honour the service of these nurses. Assistance was also provided to Rockhampton's Mater Hospital for their centenary display.
The information collected has also enabled Ashley to work on our behalf with the State Library of Queensland including the sharing of information on the State Library's World War 1 blog.
The benefits of the project have continued in 2016 with Ashley invited to attend a 2-day workshop at the State Library of Queensland in May to present a short overview of the project. Ashley was also invited to attend a Spirit of Anzac Centenary Experience (SACE) display in Mackay in June. Stories were displayed for Martha Homewood, Ellen Norton, Marianne Dowling, Alice Imison and Beryl Campbell. Certificates and badges which belonged to Marianne Dowling and Alice Imison and other small items of equipment were also displayed.
This photograph shows part of the 2015 display at the Museum, including a nurse in uniform, a "patient" on a mobile stretcher and stories of individual nurses.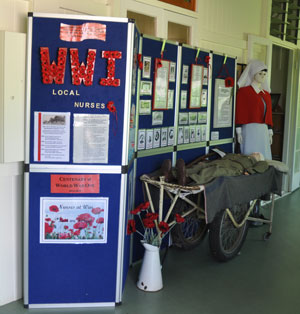 The hours spent in research was rewarded when one of the Tuesday Workgroup Volunteers recognised a surname from one of the photographs on display. Not knowing if this WW1 nurse who had trained at Mount Morgan Hospital was indeed a member of her family, she set about making enquiries and was thrilled to find she was indeed related. The training and service record was totally unknown to this generation of the family who now know more of their family history as the volunteer was given a copy of the documented evidence.
Perhaps the greatest outcome is an increased awareness of the legacy of caring left by these nurses to current students and members of the local nursing profession.
Any additional information on these or as yet unfound local WW1 nurses would be gratefully received by the committee. You will find our mail and email contact details on our Contact Us page by clicking here.
Enlistment
Nurses wishing to enlist were required to be between twenty-one and forty years of age, single, or widowed, have not less than three years' training and service in Medical and Surgical nursing in a duly recognized civil General Hospital. A duly recognized civil General Hospital was taken to mean a hospital of eighty or more beds, in which lectures were systematically given to the Nurses. She had to be of British parentage or a naturalized British subject. No male nurses in 1914! Nurses were retired at fifty five years of age but this could be extended for a further two years.
You will find more details of the conditions placed on nurses in this extract from standing orders.
Candidates for enlistment were medically examined and while no standard height or weight was required they had to be of sound health and "capable of doing hard work and undergoing fatigue". Pledging to serve King and Country nurses also pledged to maintain the honour and efficiency of the Australian Army Nursing Service by taking this pledge.
Once enlisted they were required to attend annual In-service lectures and show efficiency in First Aid having attended 3 out of 4 lectures on Organisation of a Military Hospital, Hygiene and Military Surgery. Who said In-Service and Mandatory Training were new initiatives?
Ashley Reid
October 2016