Dr Frank Couper Wooster (1884 - 1950)
Frank Couper Wooster was one of the most significant medical practitioners in Rockhampton and District in the first half of the 20th Century. He was born in the Parramatta area of New South Wales on 24th January 1884. Medicine was not his first career choice. He first worked for three years as a teacher in the New South Wales Department of Education and then for four years as a clerk in in the Master in Lunacy's Office in Sydney. He completed a one year arts course at Sydney University while doing clerical work and obtained honours in mathematics.
He then began his medical studies at Sydney University, graduating with honours Medicine and Surgery in December 1910. Following graduation, he obtained his practical and professional experience in several large Sydney hospitals including the Royal Prince Alfred Hospital (House Surgeon and House Physician in 1911), Hospital for the Insane - Parramatta (Resident Medical Officer for six months in 1912), Royal Alexandra Hospital for Children (Resident Medical Officer 6 months in 1912) and the Women's Hospital, Crown Street (Resident Medical Officer in charge, 6 months in 1913). During this period he also completed his Master of Surgery (ChM) degree from the University of Sydney in 1915.
Dr Wooster commenced his Central Queensland career with an appointment as Medical Officer at Mt Chalmers, which was then a mining community. He was soon "poached" by the Rockhampton General Hospital Committee which appointed him as Medical Superintendent on 22nd January 1914.
Dr Wooster's initial period of tenure was short. When the First World War broke out, he decided to enlist. Such was the regard in which he was already held, the Hospital Committee on 3rd August 1915 agreed to grant him leave and to keep his position open should he wish to return after war service. He departed from Sydney on 11th November 1915 and served with distinction in Europe as member and leader of various Field Ambulance divisions. He was appointed Lieutenant Colonel on 11th November 1918, during which year he also married Catherine Margaret Moir, a Rockhampton girl who was in England at the time. At the end of the war he was awarded the Distinguished Service Order (DSO) on 3rd June 1919 and was mentioned in General Haig's despatches on 16th March 1919.
Dr Wooster resumed his position at the Rockhampton Hospital on 9th August 1919 where he served until November 1923 when he submitted his resignation in order to enter private practice. Most importantly for the community, Dr Wooster joined as a partner with Dr Norman Talbot (who had also served in the war) to run a new private hospital, Tannachy.
The photograph below shows Dr Wooster with nursing staff of the Rockhampton Hospital in 1919.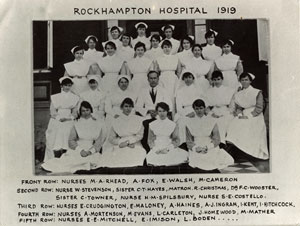 Jointly Dr Talbot and Dr Wooster provided outstanding service to the region, treating countless patients both as private patients in the community and as inpatients or out patients in their hospital on the banks of the Fitzroy River. This photograph of the Tannachy buildings is taken from a 1942 nurse graduation certificate issued to Virginia D'Arcy and donated to our collection by her son, John Miguel.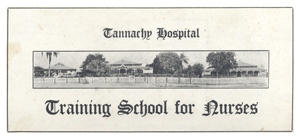 Doctors such as Wooster and Talbot were more than outstanding medical practitioners. They provided their special skills and expertise to many community causes and as each one departed a major hole was left in the community.
In particular, Dr Wooster served the community as the Rockhampton City Council's Medical Officer of Health, having been appointed to this role in October 1931. In this office he was particularly charged with overseeing the management and control of infectious diseases such as whooping cough, rubella, poliomyelitis, tuberculosis and diphtheria.
Newspaper accounts of the day also tell of Dr Wooster being involved in organisations such as the Central Queensland Lawn Tennis Association, the Rockhampton Rifle Club, the Rockhampton Cycle Club, the 11th Field Ambulance and Rockhampton Rugby League where both he an Dr Talbot were Honorary Doctors.
Dr Wooster died on 5th June 1950. This triggered a double blow for the community because Dr Talbot decided it was not practical for him to continue Tannachy alone, and decided to close the hospital. Subsequently it was reopened by a committee of citizens, before being sold to the Anglican Church. However, it did not survive in the long term.
A more complete account of Dr Wooster's life and service is provided in a pdf document which may be accessed by clicking here. This version of the story also includes reference sources for those who wish to delve further into the history of Frank Couper Wooster.